Sunny Isles Beach Miami, Florida is an elegant and exclusive neighborhood on a beautiful barrier island off Miami coast. The location offers easy access to other great neighborhoods in Miami such as South Beach, Aventura and Bal Harbour. South Beach is the perfect place for those looking for great nightlife whereas in Bal Harbour and Aventura you will be able to shop on two of the best malls in Miami: Aventura Mall and Bal Harbour Shops. Aside from offering one of the most beautiful beaches in Miami, Sunny Isles Beach also features nice restaurants and many other attractions. The good thing about this neighborhood is being able to rest and enjoy the tranquil and residential ambient, and whenever you wish to have a more agitated fun day or night, you can always reach to South Beach just a few minutes away.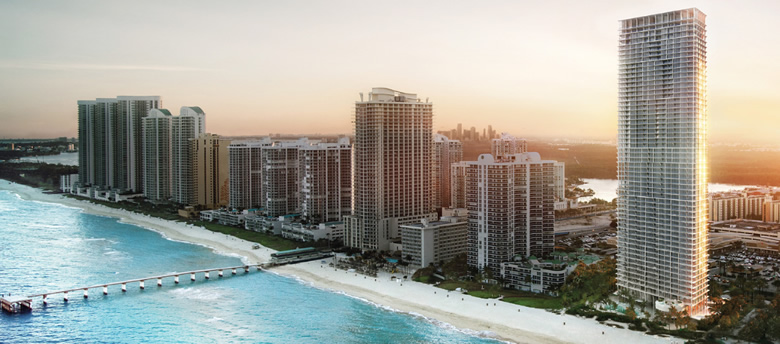 Sunny Isles Beach: Most elegant residential neighborhood in Miami
Sunny Isles Beach in Miami, Florida attracts all kinds of people. Collins Avenue and its surrounding areas make the perfect spots for those who love dining and shopping thanks to the delightful dining options and unique boutiques found here. Those who love surf, sun and sand will find the lengthy golden sands coast and the island's environment in general a delight. Millionaires Row, which is only a short drive away on the other hand is most suitable for those who prefer taking sights. It is a neighborhood that appeals in both exploration and enjoyment.
The Beach
Sunny Isles is also know as Florida's Riviera. Different from other popular and trendy beaches in Miami such as South Beach, frequented by celebrities and models, Sunny Isles is more of a family-beach in a residential environment. So people can relax and enjoy their family and friends. The clear water is most of the time calm with no big waves, perfect if you want to bathe, do water sports or just relax on the sand.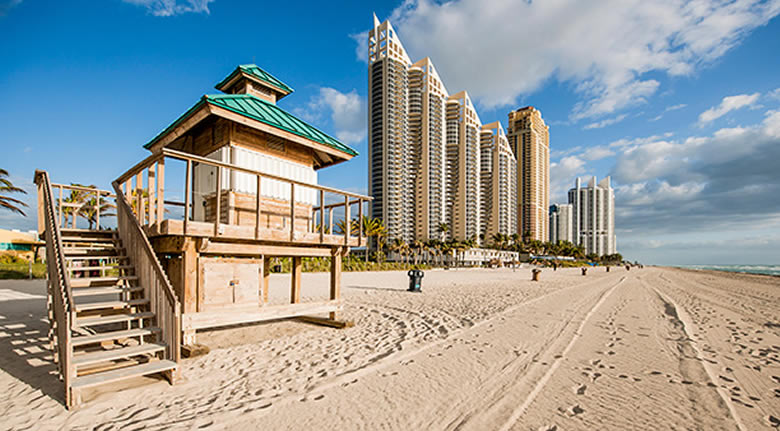 Sunny Isles Beach Real Estate
In recent years Sunny Isles Beach has gained prominence thanks to the high standard condominiums that it homes. The residential settings in the city are mostly family friendly and the beautiful beaches found here complete the appeal of this neighborhood. The developments here have mostly maintained open view corridor style to the sea and beach giving the residents perfect views of the pristine waters that surround the island. The luxury condominium developments have brought in population growth and the economy solid and ever increasing. Condos take the biggest percent in terms of housing preference and prominence but new residents can still access single family homes and other traditional housing forms.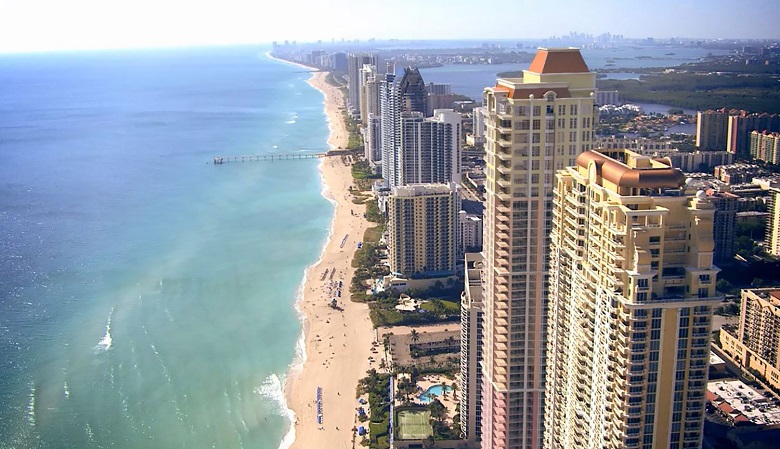 Sunny Isles Beach real estate offers a huge condo range and famed world brands have partnered with the local developers to put up super luxury condos in the city. Some of the famous brands that you will find here include Porsche Design Tower, Ritz Carlton,  Armani Casa, Trump Towers among others. Some of the already well-established luxury condos include Jade Beach and Jade Ocean, The Turnberry Ocean Colony, St. Tropez, The Pinnacle, Chateaux Beach and Acqualina  Resort & Spa. Most of these condos offer breathtaking views over the ocean and the intra-coastal and they date from the late 90s to early 2000s.
Some of these super luxury oceanfront condos have extremely exclusive features. The Porsche Design Tower P'0001 is known for its car elevator, called and patented by the Developer as "The Dezervator". The name was given after the Developer's name Gil Dezer. The fancy and high tech system is the first-of-its-kind automobile elevator. The robotic lift allows owners of Porsche residences to park their fancy vehicles inside their units, in a private sky garage in the unit. The Dezervator brings a new concept in Luxury Real Estate and privacy: The car is the "key" to the apartment!
Sunny Isles Beach real estate is predominantly condo market known for the lavish and luxurious condos. The real estate industry is booming here and you can never go wrong investing or even buying property in the neighborhood.
Shopping in Sunny Isles Beach
Two of the most important malls in Miami are close to Sunny Isles Beach: Aventura Mall and Bal Harbour Shops.
Aventura Mall
Aventura Mall is considered the largest shopping mall in Florida, and the third in entire United States. The Mall is not only famous for its more than 300 retailers and boutiques, but also for its nice restaurants. Some department stores you will find: Bloomingdale's, Nordstrom, Macys, J.C. Penney and Sears. Aventura Mall also is famous for its boutique stores: Louis Vitton, Tiffany, Cartier, Fendi, Burberry, Michael Kors among others.
Popular Restaurants on Aventura Mall are The Grill On The Alley, The Cheesecake Factory, Bella Luna among others.
Bal Harbour Shops
Imagine a super luxury shopping (very exclusive!). That's Bal Harbour Shops, an open air mall, with cozy ambiance, nice restaurants, gardens and fountains. If you want to save money that IS NOT the place to go! The most renowned and luxury brands will be found there: Chanel, Carolina Herrera, Gucci, Balenciaga, Chloe, Prada, Oscar de la Renta, Valentino and many others. No wonder the shopping is considered The most productive shopping center in America considering revenue per sq ft. Aside from its exquisite variety of designer boutiques the place also features very nice restaurants.
Nice restaurants nearby
Sunny Isles is a small and residential neighborhood. There are many nice restaurants and places to eat in the island and nearby. The best restaurants inside the island are offered by the hotels and resorts. One of them is Il Mulino New York, brought from NY directly to Sunny Isles. Il Mulino sits inside Acqualina & Spa Resort among other very nice restaurants and bars in the hotel. Trump Resort in Sunny Isles also has a great restaurant.
But talking about restaurants in Sunny Isles Beach can't be just about the neighborhood borders. As mentioned the location is an island. If you take the car and drive just for 2 or 3 minutes you might be out of the island in a different neighborhood such as Aventura or Bal Harbour perhaps. And those locations offers also terrific restaurants. So you might want to include them in this topic. Actually that deserves another article: Best Restaurants nearby Sunny Isles Beach.
Schools in Sunny Isles Beach
Sunny Isles offers one of the best community schools in Miami, rated 10 (out of 10) on GreatSchools rating. There are also private schools on the region and nearby. The good schools found in the neighborhood make it the perfect place for families and the proximity of the city to some of the best shopping malls in Miami completes the convenience of living in Sunny Isles.
More about Schools in Sunny Isles Beach.